Packaged
Our packaged geothermal heat pumps put energy savings and deluxe comfort all in one cabinet. These systems take advantage of the natural heating energy of the Earth and add the extra-quiet, consistent comfort of variable-speed or multi-speed operation. They provide heating and cooling solutions you can really get comfortable with.
Split Systems
With the heat pump on the outside and a matched indoor unit like a furnace or fan coil, our split system geothermal heat pumps deliver superior efficiency and comfort. When paired with a gas or propane furnace, this system selects the most efficienty heating source for current conditions for even greater savings.
Geothermal Services in Prescott Valley, Prescott, Dewey-Humboldt, AZ, and Surrounding Areas
Geothermal Heating & Cooling is the future of HVAC services. Unlike a traditional furnace or air conditioner, these heaters and air conditioners don't use fossil fuel. This type of HVAC uses the heat within the Earth in order to heat, or cool, your home. These units are incredibly energy efficient and widely sought for by many of our customers. These systems require v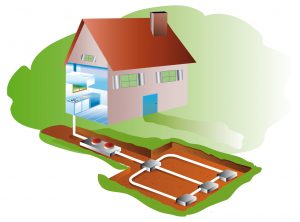 ery little maintenance because the majority of the equipment is protected from the elements.
Proud to be providing Geothermal service in Prescott Valley, Prescott, Dewey-Humboldt, AZ and the surrounding areas!  It's our hometown and your comfort is our business.  Contact us today.